10-Month SEO Case Study: Overseas Outsourcing vs. Elbow Grease SEO
An unfortunately large part of providing SEO services is defending your value in an industry with what seems like an infinite number of different price points, service offerings, and package levels.  Add to that the general lack of transparency and the legacy of rather uneducated, unscrupulous providers and selling even the best SEO services can be a headache.
What is in a typical SEO package from India?
Competing with overseas firms is a fact of life.  There are a large number of firms located in Asia (predominately), that provide low-cost SEO services.  And one of our clients likes the idea of trying to use them.  I don't mean to call these countries out, as I'm sure there are a number of quality providers as well, but those that responded (about 40) to our client's RFP all were offering very similar services, in some combination of the following:
On Page Analysis/Tasks/Changes
Social Bookmarking
Blog Commenting
Blog Posting
Web 2.0 Creation
Article Submission
Press Release Submission
Directory Submission
Profile Creation
All of these companies advertise "white hat" techniques.
Let's talk about "White Hat" for a second.

Technically, any off-page work an SEO firm does isn't "white hat."  White Hat, traditionally, means "natural" links.  Obviously they aren't natural if you're paying someone to build them.  People confuse "white hat" with "not currently harmful."  The question is whether the links your SEO company is building are going to continue to be beneficial, or if they'll soon be devalued or even hurt your web presence.
All the tactics these firms from India are promoting are decidedly gray hat, and if Google could see what's going on they wouldn't be very happy.  That should be your ultimate barometer of quality.  When it comes to linking strategies like those listed above, when people claim they're "white hat", I just like to say "everything is white hat until it isn't."
Our client wanted to hire one of these companies for 12 months on a new site they built.  I decided to take advantage of this opportunity to do a real test.  We created an almost identical site with the same base content (ours read a little bit nicer…) and target keywords.  For the next 12 months, we'd do our own SEO work on our mirror site and compare the results.  They hired the overseas company for $300/month, and I'd say we put between $500-$1000/month of effort in on our end.  So certainly more expensive for a similar amount of work, but is it worth it?
Our Long-Term Approach to SEO

Without getting into too much depth on our strategy, it focuses on providing high-quality content both on our site and on industry/niche websites that could benefit from our content.  We created industry information hubs, a few images/infographics, interacted a bit in social media, and acquired guest placements.  On top of those higher quality activities, we did some work on basic directory submissions in our area and niche, built some high-quality web 2.0's, and did some high-quality commenting (not the bulk stuff).  There were a number of other tasks, but you get the idea.
For more information on our general strategy and approach to SEO, browse through our seo services page.
We just finished the 10th month of the contract, and it's time to share the progress.  And it's roughly what I thought, or perhaps was hoping, might happen.
The Results

The first 6 months, the difference in performance between our elbow grease strategy and the company from Asia was minimal.  Our site ended up bringing in 807 visitors to their 760.  Not a number I'd be able to justify our higher rates based on.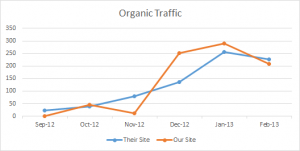 The majority of their traffic came from a handful of keywords, while ours represented more diversity.  Besides the handful of keywords they were targeting, the long-tail and other phrases that we were targeting weren't even being ranked for.  They were clearly targeting a hand-selected number and hitting them hard.
Our traffic was more diverse, and we were ranking on every keyword we had selected.  Certainly not on the first page, but the rankings were there, representing future value as we continued on with our SEO strategy.  At this point, the progress looked good and we were optimistic for growth.  Which brings us to months 7-10 (the graph below shows 5-10).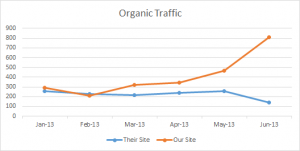 Month 9 showed solid growth, but in month 10 we really had our breakthrough.  At the same time, the site we were competing against took a hit.  When you take shortcuts in SEO, eventually it comes back to bite you. I don't know if it's going to be tomorrow, next week, next month, or next year.  But if all your links look to be low quality, Google will figure it out.
Early in June, their site took a hit, and the traffic shown below reflects it.  Estimated traffic for July will be in the 120 range.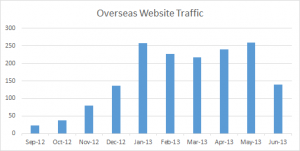 Our website, on the other hand, saw some key rankings jump in early June, with continuous improvement on a weekly basis since then.  Traffic for July is projected to break 1000 visitors.  Mixing our short-term strategy of easier keyword targets with the higher-reward, long-term keyword strategies, we were able to build traffic, maintain rankings, and experience long-term success.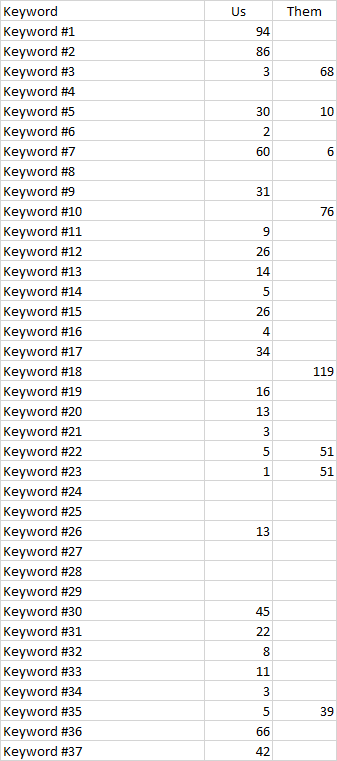 Not only have our rankings help their positions and continued to climb, the nature of our long-term strategy has us poised to continue the trend of increased traffic.  Our short-term goal is to drive profitable traffic on easier keyword targets while keeping an eye on long-term goals of achieving rankings on more difficult keywords.  Now that we're beginning to rank on some more competitive keywords, we have even more in our sights, while the Indian firm is still focusing on regaining rankings for a few of the keywords they were targeting initially.
As you can see (image to the right), we're really only tipping the iceberg here.
We recently added a few keywords we aren't ranking for yet, but it's all about looking forward.  With a number of keywords on the 2nd and 3rd pages, we've got lots of short-term potential to increase traffic.  Of course, pushing some of our 4-9's to 1-3 will result in the largest increases in traffic.
Conclusion
I'm not saying all overseas firms are bad.  And I'm certainly not saying all US firms are good.  As a matter of fact, my point is that SEO is a long-term investment and needs to be viewed as such.  Tossing a couple hundred dollars a month at your website (especially when you want to compete nationally) just isn't going to cut it.
The reason I used India/Asia outsourcing as an example is because the majority of companies over there have positioned themselves as low-cost providers, whereas in the US there is a higher proportion of higher-cost providers (those who actually do the work and don't outsource it, that is).  So don't think I'm saying everyone from Asia is terrible at SEO – I'm just saying that be prepared to invest in high-quality services if you want long-term success.
The other conclusion, of course, is to hire us to do your SEO.
Information on this project can also be viewed on our case study page.