Rochester, NY SEO Guide for Local Business – Tips for Small Business Owners
While you would think that I'd start each article by telling you to find an online marketing professional as quickly as possible (hopefully me), I realize there are some businesses that just don't have the budget for it.  We work with a lot of Rochester contractors and service professionals on other services that could really just benefit from a few tips.  There are a lot of little things that local businesses can do on their own to boost their search engine presence that you can do without me.
1) Website Tags & Content
Without getting too technical, the two places that we are really going to focus on are the Title Tag, and the Meta Description.  If you're using a content management system, most allow you to change these, but sometimes additional plugins are required.  Either way, you'll find both these tags in the <head></head> section of your website.
Title Tag – This is the tag that appears as the main text in your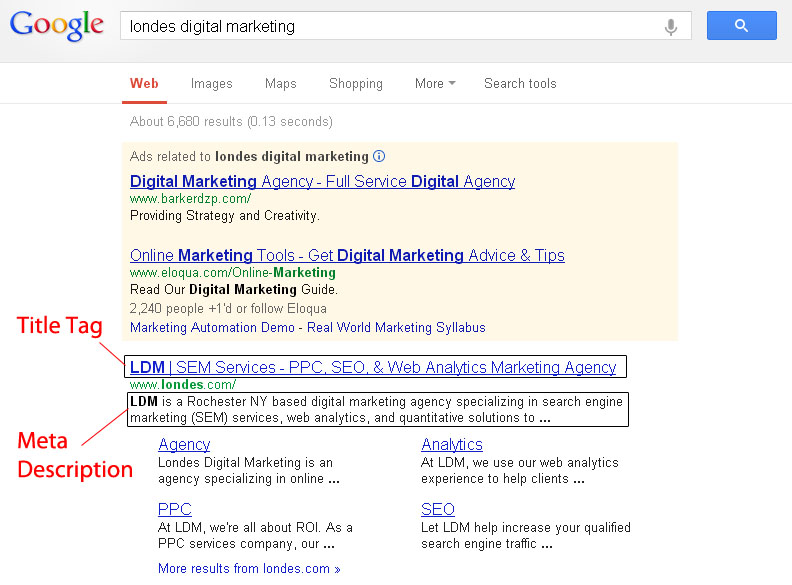 search results, and will also appear at the top of your browser when you are on the page.  Since this tag is very visible to searchers, you first want to make sure it makes sense to people who see it in the search results, but you should also use as many relevant keywords as you can.  Only the first 66-70 characters of your page title are visible in Google's search results.  You want to use as much of this space as possible, but it's a good idea to keep your title under the limit to avoid getting cut off.
Meta Description – This is another very valuable piece of on-page optimization that you may be able to change on your own.  More often than not, if you have a very high quality (and relevant) meta description, then this is the description of your site that search engines will use in search results (under the Title).  The amount of text you can use in this section is quite a bit longer (166 characters), so take some time and really craft some content that describes your page, uses your keywords, and makes users want to click on your listing.
If you feel a bit more ambitious about educating yourself, Matt Cutts does a nice job of explaining these in his video on Google.
On-Page Content – The last thing we'll talk about is on-page content.  Google uses your text as a relevance factor, so you should make sure the text on your page includes a number of your keywords throughout the website.  Use H1 tags as your headers, and make sure they are keyword rich.  But be careful not to get carried away.  With that said, your content should NOT be built around your keywords.  Using these keywords too much on a page is called "keyword stuffing," looks ridiculous, and could have disastrous consequences for your site.
Our advice is to be aware of the fact that you should be using your keywords frequently and providing high-quality content, but write for the people who will be reading your website, not Google's crawlers.
2) Google Authorship
Many SEO professionals may say this has very little to do with SEO, which is partly true since it doesn't currently seem to impact rankings.  However, it wouldn't surprise me if it starts directly impacting rankings in the near future, but for now what it does do is brings more attention to your listing when it does appear in search engines.  This makes your page seem more personal, and increases Click-Thru Rates (CTR).   Plus, it will only take you 20-30 minutes to get it done.

For people who might not be too familiar with this tool, the authorship tool (or "rel=author" tool) is what you see in some search results where the avatar (picture) of the author appears in search results for a particular blog post or webpage.  For example, if you Google "Patrick King Local Business SEO" you should see an article that I wrote previously with my image next to it.  In order to accomplish this, you'll need to add some code to your page and establish a Google Authorship profile with Google.
For more information on how to do that, take a look at this article from SteamFeed.
3) Local Business Placements – Merchant Circle & Angie's List
If you don't have a company handling your SEO and just want to focus on getting your name out there a little bit, then local business placements are a great way to do that.  Part of local search is identifying where you do business by building location citations, and using local directories is a great way to do that.  Merchant Circle and Angie's List are good examples of local business directories that you should start off with.  They'll take about 30-45 minutes to sign up for.
When registering or claiming your listing, make sure to include any and all information that they ask for (which will take some time).  Insert some pictures, even if its just a logo, because the completeness of your profile definitely matters.
Last, it's worth it to take some time to make sure that some of your customers visit the page and post some positive reviews.  Positive reviews strengthen search placements and this is probably only going to be a stronger factor in the future.  I'm not saying to tell your customers what to say, but putting in place a process to let your customers know you'd appreciate reviews online, and show them where they can do it, is a great idea for building an online presence.
4) Rochester Specific Placements – Roc-Wiki
Another important factor is getting your page listed on websites specific to the Rochester area.  There are a few that we like to start with, with the best one being RocWiki.
It is astonishing how many companies do not take advantage of Wiki profiles.  The Roc-Wiki team (and local teams around the state) provide a free service to help give your business exposure.  These are pages that rank very well in the Rochester area and are very valuable to both users and your business.  On top of just ranking well, it's a popular site that will give some exposure to wiki-surfers, plus there is an "x factor" in that you can customize your page to highlight everything about your business.  You can link to different pages on your site, explain your services in depth, and add your own categories that maybe other sites have missed or don't normally list with a free package.  We've taken some time to update our page so if you want to get some general ideas then take a look at the LDM Roc-Wiki Page when you get a chance.  It's very simple but gives you the basics of what you need to know and some useful links to different parts of our site.
5) Links from Local Contractors & Friends
Everyone always talks about "link building" and how important it is to go out and build links back to your site.  But while back links are an important part of the SEO process, search engines don't want people to go out and just start building thousands and thousands of random, irrelevant links back to their site.
A great way for a Rochester small business owner to get some high quality, relevant links is to utilize the off-line network that you already have in place.  Do you work with other small businesses in the area?  Worked on projects with others in the past?  Do you have people you can recommend, or know other individuals with websites that would recommend you?  Using those relationships to build links to your website can have a nice impact on your search rankings.  When we work with a local business, we help them identify these opportunities and maximize the effectiveness of their implementation.

What To Do From Here
I provided a few examples here to get you started and help you identify some quality opportunities to start bringing you up in the rankings.  There are a lot more similar examples to these out there – you can continue to search them out and find them.  Or if you decide it's something you'd rather not handle, we offer packages specifically for small businesses starting at $1,000.  We understand there are small businesses that like to do things for themselves, but hiring the professionals to take care of it can have its advantages.