Product Listing Ads: Google Shopping Setup and Optimization Process
While Google Shopping certainly isn't a new concept, (evolving from Google Product Search and Froogle) it presents an increasing opportunity to target qualified searches ready to make a purchase.  In case you aren't familiar, Google Shopping is a Google based platform for users to search products available to purchase online. Or, if Google thinks users are searching for products, Google Shopping displays appear similarly to Adwords offering specific products related to the search term.
Items are displayed via a company selected image that displays a variety of descriptors (price, condition, brand, color, etc.).  Similar to Google Adwords, it is based on a CPC basis and can be managed through Google Adwords Product Listing Ads. The difference for advertisers is that Google Shopping needs a little bit more TLC. Between feed management, different optimization techniques, and account management, getting the most bang for your buck takes a little expertise. The infographic below lays out our general strategy to optimizing Product Listing Ads: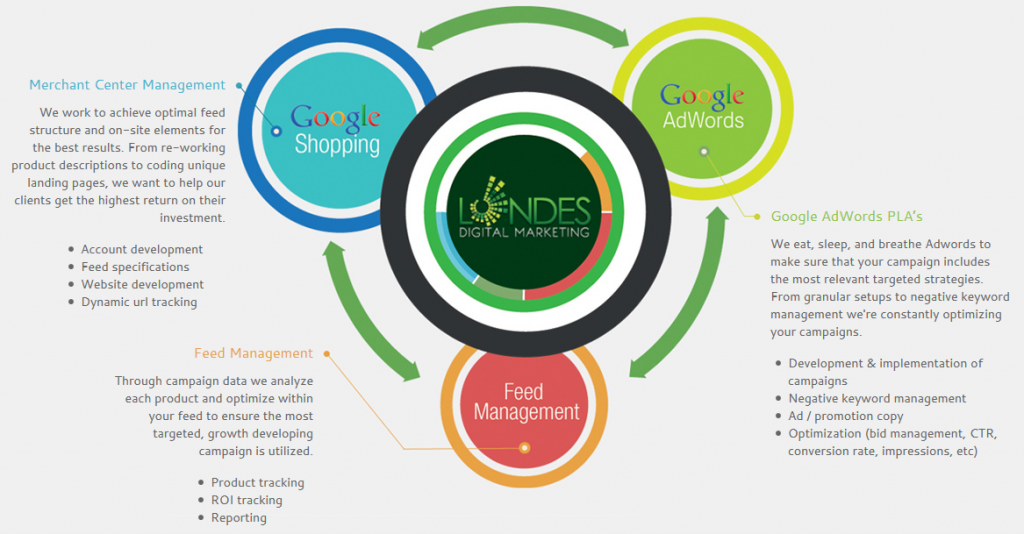 Interested in talking to us a little more about your e-commerce Adwords campaign?  You can view our full-size Google Shopping graphic along with a little more information about account optimization over at our Google Shopping Adwords page.
Here's the text from the Infographic if you're having trouble reading it:
Merchant Center Management
Account development
Feed specifications
Website development
Dynamic URL tracking
Feed Management
Through campaign data we analyze each product and optimize within your feed to ensure the most targeted, growth developing campaign is utilized.
Product tracking
ROI tracking
Reporting
Google Adwords PLA's
Development & implementation of campaigns
Negative keyword management
Ad / promotion copy