Google's Personalized Results – Location Influence Beyond Google Places Listings
Google continues to introduce a number of ranking features that are supposed to make user results more relevant. That's their end goal, anyways. So we've seen Google Places listings infiltrate results on local searches (both using geographic keyword targeting and targeting based on IP address), as well as our web history to personalize results.
Now this is a nightmare from a reporting perspective. You can't use "anonymous" tools to measure website rankings of local professionals, because it's the personalized location-based rankings that are more important anyways. Clients call excited they're ranked #1 only to learn they're ranked #1 because they're at their business location and have visited their site about a thousand times.
In most cases, you can tell when Google is personalizing your results. Either it will say "your friend +1's this" or "keyword near Rochester, NY" – it's pretty obvious when they're taking into account where you are and what is influencing search. But they're making some more subtle changes as well, where there aren't indicators that the SERP's are being influenced.
One of our clients (we don't actually do SEO for him) runs an e-commerce flag shop in Pittsford. "International Flags" is a pretty big search term in his industry. Take a look at the SERP when you search "international flags" from Rochester, NY (his website is 1-800Flags.com):
So he's ranked 4th, excluding the Google Shopping and image results. Search for "international flags for sale" and he'll come up #2 overall. He doesn't even use Rochester, Pittsford, or NY for any of his key on-page information. Google+ authorship isn't hooked up – just his Google Places page. The address on his website about his location isn't even readable text… it's in image (yuck, I know). Although, I admit I snuck Rochester, New York into his home page text. We've got no choice to conclude that the Google Places verification is influencing regular SERP results. I suppose it could be something like registrar information or that small amount of text on the home page, but I'd say it's unlikely.
Let's take our company (Londes Digital Marketing) as an example as well. A search from the Rochester area for "sem services" brings the following results for us: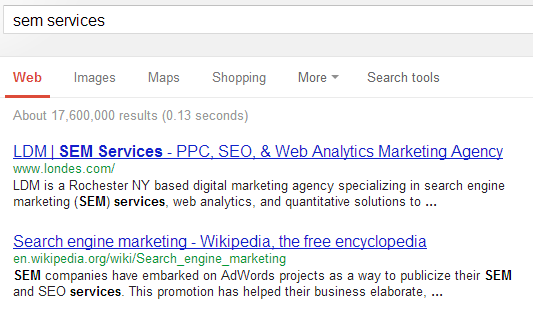 Yipee, #1. Anyways, the results are personalized based on location. And our site is similar too. We don't play the location game in our keywords or text (I think Rochester is in our website copy only once or twice throughout the entire site). And this is where it gets interesting. Let's change our location to Buffalo, NY – a little over an hour southwest of our location.
The results:
For "sem services" we're still ranked #1.
For "international flags" The Map Shop dropped to #16.
Didn't take things very long for them to drop off. I made a quick change to "Tulsa, OK" to find where the general listings were (it was the first city I could think of in the middle of the country, so judge as you will).
"sem services" – #7
"international flags" – #16
So we can see that the flag searches were only affected within a very small radius. Or might they be different?  Our office is on the west side of the city.  His is on the east side.  I ran a search to Batavia, NY – 38 miles away from The Map Shop– the higher flag rankings held, as did ours.  Obviously some additional testing was necessary.
I'm going to move east from our searches and see what happens:
How it looks: City – "sem services" rank, "international flags" rank
Waterloo, NY – #1, #4
Auburn, NY – #1, #4
Skaneateles, NY – #1, #4
Baldwinsville, NY – #1, #4
Syracuse, NY – #7, #4
Ours dropped off on his side of the city, whereas the flag search held strong.  Perhaps it's a standard distance after all.  Looks like it's just about 75 miles. Let's create a map and move around just to make sure it wasn't because we hit a major city.  LDM's office is the center of the left circle, with The Map Shop being the center of the right circle.
Dundee, NY – #1, #4
Oswego, NY – #1, #4
Corning, NY – #7, #4
Ithaca, NY – #7, #4
Lancing, NY – #7, #4
Cortland, NY – #7, #16
Elmira, NY – #7, #16
Oneida, NY – #7, #16
Pretty substantial evidence if you ask me. The cities just outside the 75 mile radius from our office go back to the regular results. Not gradually – just BAM. The fact that we're about 10-15 miles west of the city seems to matter a lot, just as The Map Shop's location seems to be the center of their circle as well. If we were located in the heart of Rochester, Corning NY would have landed inside the 75 mile radius. But it doesn't from our office, and the ranking drops off. This supports the theory that they're using the Google Places location as the center of the circle.
Now Buffalo does lie inside the 75 miles radius for The Map Shop.  Just barely, but it's there.  The theory would be a little more sound if it were included, but it's not enough to discourage me.  I think we're close.  I think it's based on a radius from the office location, and I think it's pretty close to 75.
And just for fun:
Rochester, MN – #7, #16
Oh well. They know which Rochester we're near. Or like I was saying, they don't care, and it's more likely Rochester NY just happens to be within 75 miles of our office.
So how does Google determine the search radius? Is it due to industry? Strength of the website? Both of these examples are of local companies ranking fairly well nation-wide on large searches (not optimized locally). Does that have something to do with that?  Or did they just arbitrarily say "People will probably drive around 75 miles to do business locally.  Let's go with it."?  So far, the last one gets my vote.
Whatever it is, we'll continue to monitor things to see how Google is dealing with the location of businesses. It makes sense that they would favor local businesses that have nationwide appeal on search terms.