Top 5 Office Games That Make You a Better Marketer
Top 5 Games I Play To Increase My Awesomeness In The Office:
Success in the marketing world usually comes from creativity, outside-the-box thinking, and great insight. As a professional in this field, I take my continued education very seriously and work on a daily basis to make sure I'm in tip-top mental shape. This includes creative thinking drills, arts and crafts, list building, and problem solving. To prove my point (and to check off this activity for the day), I've developed a list of the top 5 games I play to keep my marketing abilities sharp:
1. Crossword Puzzles: Crossword puzzles help to foster creative thinking, problem solving, and the ability to interpret the same thing in different ways. General trivia is never a bad thing, but the riddle-like nature of these word games is what makes them really valuable. Being able to approach problems in different ways can be especially helpful in the marketing world to help your brand stand out from the competition.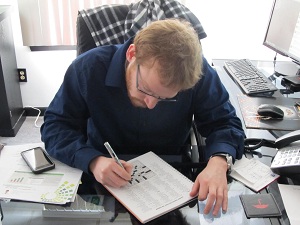 2. Speed Scrabble (aka Bananagrams): A race to build crossword grids helps hone both quick thinking, creativity, and problem solving. The best comparison – the ability to revise or abandon a strategy that may have once worked in the past, but is no longer what's bests. Many marketers have a hard time giving up on strategies that have proven successful in the past, so being able to step back and reevaluate is definitely a good thing. Watch Mike and I play a game of speed scrabble.
3. Poker: The main purpose of this is to really frustrate my male co-workers who all think of themselves as Phil Hellmuth. But being able to size up your opponent and understand what they really want has important applications in marketing as well. It's all about understanding the decision making process of your target market. Understanding these motivations are an extremely valuable concept in advertising.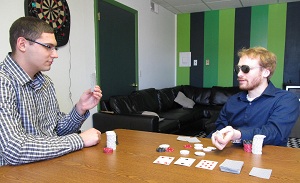 4. Darts: This one is really just beneficial for keeping in tip-top physical shape (this could have something to do with our House Rules involving push-ups). Also if you have a non-electronic dart board it helps with your general math skills. Apparently, there is some strategy involved in playing the actual games too.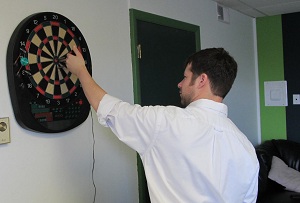 5. Scattegories: Not only is this the only other game in the office right now, but I also find the ability to generate obscure references such as "Peter Pipers Pickled Pepper" as a key element to my professional success. In all honesty, most of the time these games are about the ability to think outside of the box. There's also the fun of defending your answers no matter how silly they may seem to other people. I think one of the major problems in marketing today is that people get caught in their world and forget to view the problem from the outside. It seems to me that some of the best ideas have come from unexpected inspirations.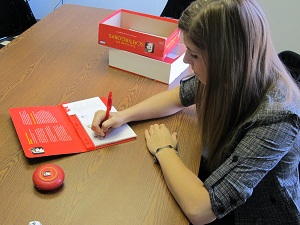 I hope you can now understand how important is it to play games, have fun, and think creatively. I know I do. So head out to your local board game store and pick up these games for future enjoyment, and contact us if you have any questions – game, regulations, or marketing related. Or follow & tweet me today @SydneyHadden if you want to try to beat me at Words With Friends or Scramble With Friends.