A Guide to Google Adwords Extensions: Enhance Your PPC Campaigns
Some of the least used but most beneficial features in Google Adwords are Extensions. These are additional features to your regular ads that can help enhance your presence, or make it easier for customers to get what they need.  While not all of these features can and should be used simultaneously, many of them work together to give your user the best experience possible, and hopefully lead to a conversion.  Listed below are the available extensions and how they function within Google.
Location Extensions:  These extensions are used to aid users in find your business's location. I'm sure the name didn't give that away, but given the huge number of local searches for contact information such as phone numbers and business addresses, this can hold a lot of potential. These are particularly useful for brick-and-mortar businesses because it also ads your store information in the relevant searches and on Google maps. Helping your customer find you on their first try is obviously beneficial.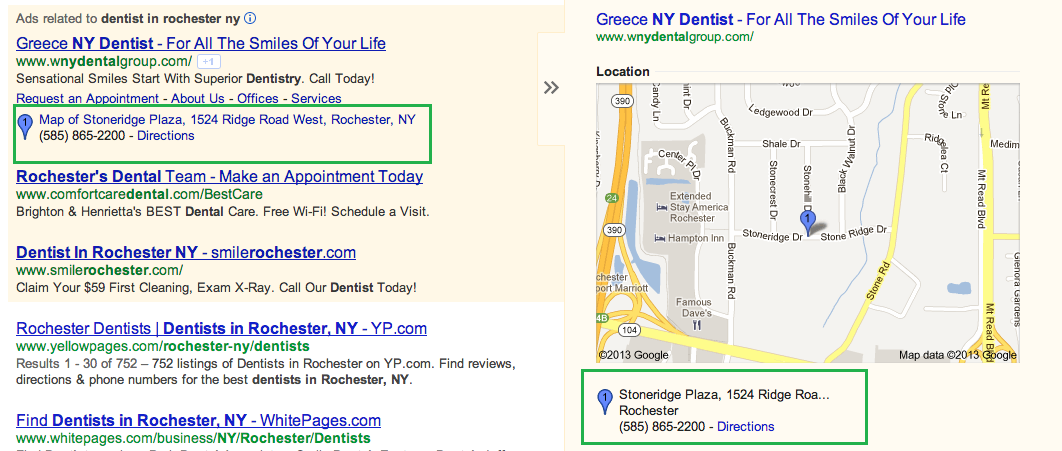 Site link Extensions: These are additional links below your ads that you can be customized to display the relevant, appropriate text to draw traffic to more specific landing pages and drive conversions. Commonly used for promotions, relevant category direction, or form submissions these can be utilized to help your ad be more relevant to your customers and provide a bit more stomping ground for your ad.
Offer Extensions:  In the form of coupons, deals, or discounts offer extensions are an extra incentive for your customers to click on your ad and buy your product. These can be customizable down to the ad group level and managed for specific offer times to optimize ROI.
Product Extensions: These extensions are rarely used, particularly with the development of Google Shopping within the past year, but still worth mentioning. Displayed as links to individual products on your ad, product extensions are fed from product feeds using Google Merchant Center. They help build your ad real estate, and offer a direct path to products for your searcher. For more information on how to manage Merchant Center Accounts, product feeds, or Product Listing Campaigns please refer to Google Shopping: Merchant Center Step-by-Step Setup Guide.

Call Extensions: This enhanced function displays your phone number next to the ad and on mobile devices it provides the ability to click and call directly.
Social Extensions: Sharing web content has great potential for advertisers. This extension allows people to endorse Google + pages from your ads. The main benefit of this, like any social effort, is to generate buzz and keep brand awareness. If you're building your social presence, this is an essential extension. *If you do not have a strong social presence this will probably hurt your efforts – for information on this topic check out The 7 Questions to Ask Before Taking Your Brand Social.
Seller Rating Extensions:  This is like a little endorsement from your customers, and also probably the hardest to implement.  In the form on a 5 star rating, these will show right next to your ad in the search results. Seller ratings are only beneficial for companies with positive and consistent feedback; they will not appear unless you can maintain 30 unique reviews with 3.5 stars or higher from the past 12 months (hence the most difficult, especially for smaller companies).

I fully believe that Adwords extensions are under-emphasized by clients and not pushed hard enough by agencies. With the competition in this market, it's extremely important to do what you can to make your product stand out and ensure customers are clicking on your ads rather than the competition's.  As I said before, a lot of these extensions can work very well together, providing your customer with all of the information they need.  However, it is important to look at what is best to emphasize for your individual site and expand on those specialties. For more information on other Adwords optimization techniques, check out my author profile.