Cupid's Finds its Match: Using Web Analytics to Find My Soulmate
When I heard Chad and Ben were looking for a web analytics specialist to help improve the usefulness of the data for their upcoming fundraiser, I was pretty excited.  A cool project that also supports a non-profit?  How could I turn that down?
Cupid's Undie Run is a fun run taking place each year across the country (and in Australia) on Valentine's Day (February 14th) that supports the Children's Tumor Foundation.  It's a great event to support a great cause.  Click here to make a general donation to the event.
Over the past few weeks, we've utilized the functionality available in Google Analytics to its full potential.  We implemented cross-domain tracking across all three of their websites, carrying referral data on registrations and donations through for proper attribution.  We set up custom reports and dashboards by city to track who was signing up, who was donating, and kept track of fundraising information in real-time.  We fed in custom variables to learn more about the registrations.  Now we can break data down by city, traffic source, gender, age, and many more variables to segment the data and learn more about our visitors and improve their experience.
We'll get around to analyzing all that data after the big day in a couple weeks.  Web analytics helps us answer all the important questions.  Important questions like "which social source refers the majority event registrations?" and "which city raises the most money per participant?"
Then of course there was the question that I really wanted an answer to: "which city should I run in if I want to maximize the odds of meeting my soulmate?"
So get ready for the borderline creepiest blog you'll read all week.
Don't worry, I'm just the analytics guy.  I don't have any names.  It's all anonymous and all the registrants are just numbers to me, so you won't find me waiting outside your house.  Probably a pretty poor strategy for meeting someone anyways.  It's all in good fun.
Ok, so how am I going to use web analytics to find which city I'm going to run in?  Well, let's start it off very general and narrow it down from there.
Female Registrants: 1,667 registrations
I'm attracted to females. That's just how things worked out.  So we'll start with that as the pool.
Single & Female: 800 registrations
Yes, relationship status is a custom variable that's read in during registrations to Google Analytics.  And I'm no home-wrecker.  I'm not even a relationship-wrecker ("Dating" is an option during registration).  So she's got to be single right now.

Single & Female & Age 22-34: 557 registrations
I'm 27, almost 28.  So I'm putting a healthy +/- 6 on that to set the range from 22-34.  Date of Birth is in Custom Variable slot #2, so I've set up a regular expression to include anyone born in the 80's, and a couple years in the 90's.

Single & Female & Age 22-34 & Small or Medium T-Shirt: 483 registrations
Look, I know you're probably going to get mad at me for this one, but we all have our preferences.

Single & Female & Age 22-34 & Small or Medium T-Shirt & Doesn't use Internet Explorer: 373 registrations
Seriously, almost 23% of you are using Internet Explorer?  Dealbreaker.  No wonder you're still single.  I'm probably eliminating a number of perfectly fine young women who are forced to use IE at work, but the business of making generalizations with analytics comes with the risk of some Type 1 errors.

Single & Female & Age 22-34 & Small or Medium T-Shirt & Doesn't use Internet Explorer & Live in the US: 350 registrations
Cupids Undie Run holds events in Australia as well.  I would do anything for love, but I won't do that.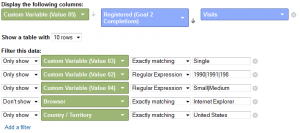 I think that's picky enough for me.  Of course we could filter for plenty more things: Apple product users, Device type, flash version (who doesn't look a girl who keeps her computer up-to-date), among other things.  So let's see what city has the most that meet my criteria!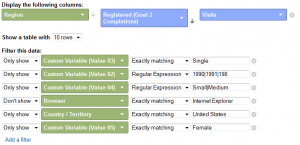 Now I realize there are some flaws here.  A lot actually.  So many that I'm not going to bother going through them, but understand the point of this exercise wasn't so much accuracy as it was displaying how to filter analytics to dive through data.  So, hello Colorado!  Looks like I'll be running out in Denver.
But wait!  What about the competition?  I'm not great looking, have an unpleasant personality, and possess few or no redeeming qualities.  I'll need any edge I can get.  So let's say I'm competing against all single males to get the attention of this lucky girl.  I calculated the surplus single female registrations versus single male registrations, then added on my eligible bachelorette filters.  It's an arbitrary calculation for calculating my odds, but it's all I've got.  Anyways, here are the results by city:
Hello, Detroit! I feel like this must be a trick.  At least I didn't end up in Cleveland.  But as far as low competition and high availability goes, Detroit is the place to be.  Denver and Chicago weren't too far off.  Maybe I'll go there instead.